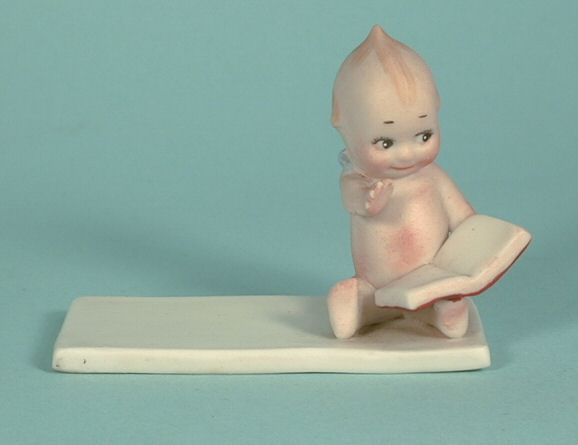 Received Simon Doonan's latest,
Eccentric Glamour
, for my birthday. Okay, from myself. It's interspersed with profiles of the allegedly glamorous and eccentric - the usual suspects, such as Hamish Bowles, Lynn Yaeger, Isabella Blow; the arguable: Tilda Swinton, Dita von Teese; and the downright preposterous, ie Malcolm Gladwell and Lucy Liu.
Each case study fills out a questionnaire. Now I will do the same. I am not really a glamorous eccentric like my friend Eloise, who was known in college for her wardrobe of vintage suits and her crimson lipstick, but I'm at least as glamorous as gruckimish old Canadian Malcolm Gladwell. Besides, I can do whatever I want.
Profile
Serial Monogamist and perennial shopgirl Sadie Stein is a fixture on the Smith Street scene, where she is known for her wardrobe of large glasses.

What are you wearing?
Denim romper, vintage 'leaf' belt, black Minnetonka moccasins. Underthings all Princesse Tam-Tam.


When did you first realize that you might in fact be a glamorous eccentric?
When I insisted on wearing a pair of ruffled 19th century bloomers under my dresses in third grade.

Were your parents horrified?
My mother procured the bloomers. She does refer to my many pairs of big glasses as "voluntary disfigurement."

Are you prone to mood swings?
Less so when medicated.

Have you ever been mocked for any of your glamorous eccentricities?
See: the bloomers.
Have you ever wished you could trade in your life of glamorous eccentricity for one of dreary conformity?
I compromise with a life of dreary eccentricity.
When does eccentric glamour become idiocy?
When perpetrated by an idiot. Also see: the bloomers.

Who is your inspirational icon of glamorous eccentricity?
Stevie Smith.

Do men think you are hot?
Gay ones.

What is the thing that most offends your glamorously eccentric sensibilities?
Asses in leggings.

Where do you wish to be buried, and in what?
Instantly, even if they're not sure I'm really dead, before any children can see my corpse. And anything, as long as embalming fluid's not included.
(NB, like half of the 'eccentrics' say Pere Lachaise.)
-