Friday: Lovely, lazy evening after a middling week: internet was on the fritz (or at least being used by half the hood - we can't lock it) and I had to work, kneeling, in the front hallway of our building, where the jack is. Some kinks to work out!
Since it's been grayish, I've been plying the "sun-box" my parents sent me, and I must say, I am feeling pretty jolly!
In addition, the week involved:
two
visits to Pies and Thighs, far too much time spent on Polyvore, a lovely takeout Indian dinner with friends and their baby, the sweetest 16-month-old in the whole world and, last night,
The Nose
at the Met.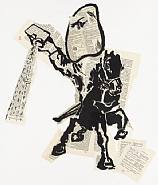 The Nose
is Shostakovitch's first opera, written when he was only 22, and based on Gogol's short story of the same name. Basically, a man wakes up without his nose. The nose is at large, running around the city and impersonating an officer. It's all very absurdist and, it must be said, extremely gruckimish! The production was very whimsical and busy, with Surrealist animations cut with Societe-era propaganda films and text and images and, of course, the silhouette of the giant nose cutting capers. I've been listening to the score all day which, as Slim says, wasn't even that atonal!